Comprehensive Pain Management and Physical Therapy
Services That Improve Your Mobility—and Your Life
A T.E.A.M. Approach Physical Therapy Center combines manual mobilization techniques with physical therapy modalities and exercise to treat injuries and chronic conditions, and provide physical rehabilitation for our patients. Our comprehensive physical therapy and chiropractic services are all offered under one roof at our facility in Bloomfield, New Jersey.
A T.E.A.M. Approach Physical Therapy Center is fully equipped with top-of-the-line rehabilitation and exercise equipment, and our team members are highly trained in the latest therapeutic treatment modalities. Their focus is on restoring your function or range of motion to the greatest degree possible, and they will work with you on important measures to prevent re-injury and avoid subsequent pain. As your partners in optimal physical health and conditioning, we not only provide superior hands-on care, we'll also help incorporate the lifestyle changes you need to make in order to avoid future problems.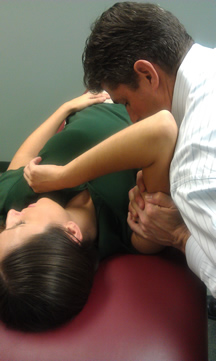 Your Road to Wellness Starts with A T.E.A.M.'s Comprehensive Physical Evaluation

Our licensed professional staff of physical therapists will conduct a thorough evaluation of your overall physical condition including musculoskeletal, cognitive, and neurological screenings to determine the scope of your problem. We will also discuss your complete medical history, lifestyle, job requirements, and work conditions to assess how your life affects your pain and, conversely, how your pain affects your life. The goal is to alleviate the physical obstacles that keep you from living your life to the fullest.
Three Phases of Care, One Path to Recovery
Each phase of care at A T.E.A.M. Approach Physical Therapy Center is designed to bring you one step closer to your destination—physical well-being—as quickly and effectively as possible. They are pain relief, rehabilitation, and injury prevention.
A T.E.A.M. Approach to Custom Treatment
Based on your physical evaluation, our licensed professional staff will design a customized treatment program for your physical rehabilitation. Your treatment plan will be a combination of manual (hands-on) mobilization; physical therapy modalities such as ice, heat, electric stimulation, hot paraffin for hand therapy, TENS, phonophoresis, ultrasound, spray & stretch technique for trigger point-related myofascial pain, and massage techniques; as well as permanent lifestyle changes such as diet/nutrition and a fitness regimen. The goal of this phase of care is to facilitate the body's natural abilities to heal and stabilize itself.
As an integral part of your custom treatment plan, our staff will also include an at-home exercise program based on your abilities and needs to keep you active and on the forward path to recovery.
Pain Relief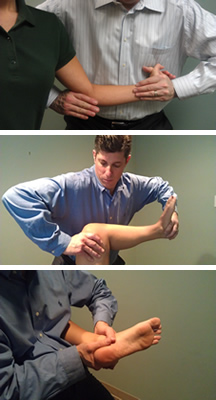 Reduction of muscular and skeletal pain, inflammation, and impaired motion

The first step to recovery is to manage and conquer the physical pain that is keeping you from moving forward on your path to recovery. The idea is to bring down the inflammation and reduce the pain you are experiencing before starting your therapeutic exercise or other physical therapy modalities.
To relieve primary pain and encourage a wider range of motion, our staff may use ice, heat, electric stimulation, hot paraffin as part of hand therapy, TENS (transcutaneous electrical nerve stimulation), and massage.
A T.E.A.M. Approach Physical Therapy Center works to relieve acute pain and chronic pain through manual and non-invasive methods. We treat:
Patients recovering from surgery of the knee, shoulder, wrist, elbow, back, neck, hip, and ankle/foot
Individuals who have had an auto accident, work accident, or other accident resulting in moderate-to-severe injury of the neck and back or upper and lower extremities
Athletes and dancers who suffer from joint, cartilage, or bone pain specific to their sport or vocation
Mature adults who are dealing with symptoms associated with normal aging, such as arthritis and osteoarthritis.
Our licensed professional staff will address each person's needs in order to reduce inflammation and joint or muscle pain, and when relevant, create a program geared to relieving the pain so patients can move on to the next step: physical rehabilitation.
You don't have to live with the pain—call A T.E.A.M. Approach Physical Therapy Center to start on your path to pain relief! Call 973-429-3001 today to set up an appointment.
Physical Rehabilitation
Restoration of a healthy neck, back, upper and lower extremity functions.
When the body suffers from injury or prolonged pain, or has undergone surgery or other medical procedures, it needs to be restored to its previous level of flexibility, strength, and endurance. At A T.E.A.M. Approach Physical Therapy Center, we recognize that it takes a combination of modalities to achieve this goal, from hands-on manual therapy and corrective exercise programs to maximize your potential. We believe that bringing together a range of treatment options provides you with the best support and optimizes the effects of your physical therapy.
A T.E.A.M. Approach Physical Therapy Center provides physical therapy and chiropractic services for:
Neck conditions such as pinched nerves, bulging or degenerative discs, chronic neck pain
Back pain – results of a back injury, side effects of disease, injury due to repetitive motion associated with sports or work; back pain from disc degeneration, spinal stenosis, lumbar or cervical spinal compressions, dysfunction of rib joints.
Shoulders – increase range of motion after surgery to repair torn rotator cuff, shoulder replacement surgery, or SLAP repairs; frozen shoulder, tendonitis, bursitis, dislocation, healed fractures.
Arms, elbows – tennis/golfer's elbow (tendonitis), dislocations, arthritis, bursitis; rehabilitation of torn or strained ligaments, tendons, muscles.
Hands, wrists – treatments for carpal tunnel syndrome, severe tendonitis; rehabilitation after hand surgery; treatment for sports injuries such as fractures, tears, ruptures, dislocations, sprains and strains.
Knee, hip – post-surgical joint rehabilitation after knee or hip replacement; rehabilitation following meniscus surgery, ACL repair or post-fracture; knee sprains, knee strain.
Feet, ankles – mobilization, load-bearing exercise, strengthening, balance work; pain modulation; control of edema or swelling, inflammation management; flexibility training for plantar fasciitis, ruptured tendons, foot drop, bursitis, bunionectomy, hammer toes, bursitis, tendonitis, neuroma, fractures, sprains and strains, dislocations.
Contact A T.E.A.M. Approach Physical Therapy Center for a consultation about how we can resolve your pain and challenges due to a sports injury, an accident, surgery, or age. Call 973-429-3001
Injury Prevention
Continue your path to well-being after recovery by avoiding re-injury
Once you have completed your physical therapy program and have achieved your maximum potential, we want to make sure you take the necessary steps to avoid future injury. The value of this treatment phase is to capitalize on the gains in your function and mobility, support your ongoing healing, and prevent future health problems.
In this final phase of your custom treatment program, our licensed professional staff will teach you techniques to minimize the chance of re-injury and help you to maintain your well-being. These techniques focus on proper body mechanics, posture, and improved work methods.
Before an individualized program can be implemented, a thorough comprehensive assessment is conducted of your condition and abilities. Once your physical limitations are determined, corrective exercises are prescribed to eliminate the physical dysfunctions. The exercises prescribed are specific to each patient. We focus on building core strength, and improving mobility, stability, balance, posture, and proper body mechanics—all which will help prevent new injuries or re-injury.
We will also discuss and analyze the ergonomics of your work environment, advise you on how to improve your work site's set-up, and help you implement the proper techniques there to avoid injury or aggravating an existing physical condition.