Athletic Performance
Improve Your Game, Boost Athletic Performance



A highly specialized part of our practice is Dr. Ruffalo's Golf Performance Strategies and Athletic Performance Enhancement programs; these unique programs are made possible through our affiliation with the world-renowned Titleist Performance Institute (myTPI.com) and Functional Movement Systems (Functionalmovement.com), which is dedicated to improving the athlete's game through sports-specific training. In addition to his expertise in health care, Dr. Ruffalo is also a TPI Level 3 Medical Certified Golf Fitness Instructor (TPI's highest designation), TPI Certified Junior Coach and FMS Certified in Functional Movement Screening who specializes in enhancing athletic performance for athletes across a broad spectrum of sports.
Athletic Performance Enhancement Program
Dr. Ruffalo's Athletic Performance Enhancement program utilizes the Functional Movement Screen (FMS) evaluation system to appraise the athletes fundamental movements, motor control, and competence of basic movement patterns to determine movement deficiencies and ascertain the best corrective exercise strategy for you. FMS is used across all sports to enhance performance in baseball, football, basketball, lacrosse, and soccer. Both the Athletic Performance Enhancement and Golf Performance Strategies programs are meant to enhance your performance, get you back in the game, with decreased chance of injury, as you maximize your potential with specific individualized exercise protocols.
Eliminate pain • Improve posture • Increase endurance, power & strength
Improve flexibility and balance • Improve mobility and stability
Robert A. Ruffalo, PT, DC, CCSP, TPI CGFI-MP3, TPI JR2
Licensed Physical Therapist • Doctor of Chiropractic
Certified Chiropractic Sports Physician
TPI Certified Golf Fitness Instructor-Medical Professional Level 3
TPI Certified Junior Coach Level 2
Certified Functional Movement Screen
Start playing your best game now! Call 973-429-3001 to schedule your
athletic assessment and FMS Screen with Dr. Robert Ruffalo.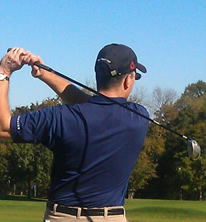 How Dr. Ruffalo Helps You Maximize Golf Performance
Maybe you want to lower your golf scores and refine your golf swing, or you want to play more golf but are experiencing physical discomfort or pain on the golf course. Either way, Dr. Ruffalo can help, with his Golf Performance Strategies (GPS) program.
Dr. Ruffalo starts each GPS program by using the Titleist Performance Institute's comprehensive evaluation system to identify the golfer's physical limitations by testing:
Mobility and swing mechanics
Stability and balance
Posture
Coordination
Muscle strength and physical power
Mental toughness
Based on the results of your initial evaluation, Dr. Ruffalo creates your tailored performance program through the Titleist Performance Institute to address issues that could be limiting your golf game:
Improve your swing – the key to increasing your driving distance
Correct posture problems that can cause back injury
Build endurance and strength so you can go 18 holes without tiring
Boost eye-hand coordination so you meet the ball more accurately
The Golf Performance Strategies program integrates with what PGA or LPGA professionals are teaching, and will help you optimize your performance and your physical condition on the course.